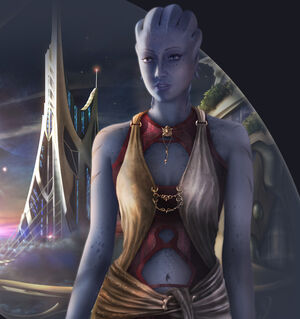 Azure is a swanky hotel on
Illium that
specializes in the erotic arts. Many beautiful asari women work here as dancers, masseuses, companions and general hospitality specialists. They have a rather extensive repeat client list and the services of the lovely employees there are always in high demand.

Recently, Caleb decided to take some of the boys on a manly bonding trip to Azure, so he loaded Alistair, Anders, Kaidan Alenko and of all people, Morrigan into the shuttle and headed off for an adult oriented rip roaring good time.

Among the lovely ladies there: Bleu Dealie, Aphrodite, Hetaera, Cytherea, Phryne, Chloris, Phaedra, and Thetys, who also handles the club promotion side of business.