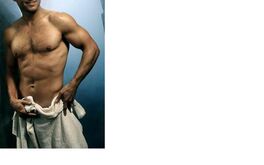 Towel Day was originally celebrated on May 25th as a tribute to Douglas Adams; author of The Hitchiker's Guide to the Galaxy book series. Though the original purpose of the day was to simply bring a towel on your person, the purpose was changed to wearing nothing but a towel at all.
Towel day was an enjoyable event held on the normandy where participants wore nothing but towels for the day.
The entire day consisted of unresolved sexual tension, resolved sexual tension, unabashed staring and drooling and about zero percent body fat.